Lessons from beginners to professionals
Winter has finally arrived and after a long break, you are back on your skis for the first time again on a perfect slope in the mountains! After a few metres you notice that safety and sensitivity are lacking. What now? Continue to watch the others swing elegantly down the slope or become an eye-catcher yourself?
It's time for a ski lesson! No matter if you're a beginner or a renewed beginner, advanced or professional – you will definitely benefit from lessons in terms of skiing skills as well as safety.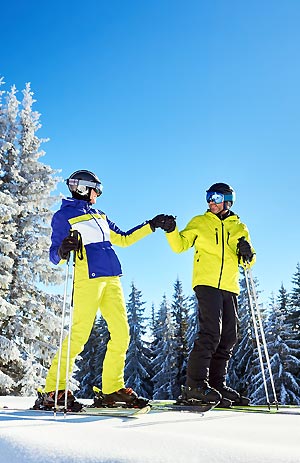 HOW DO ADULTS LEARN TO SKI? WAS YOUR LAST SKIING LESSON LONG AGO?
You like to glide over the snow-covered slopes in beautiful weather and enjoy the wonderful view, but you have never or not for a long time stood on skis … then the question arises: can I still learn to ski as an adult or learn to ski again? Our answer: absolutely!
Children normally learn to ski a little faster than adults, but with the right motivation and the appropriate training, adults can quickly join in. Today, adults make up more than one third of the beginners' ski lessons. Ski schools also offer warm-up lessons for beginners.
Do I need a ski instructor or can I teach myself how to ski?
The Internet offers a wealth of tips and tricks for newcomers to winter sports – a good read, but that alone is not enough. There's too much danger in learning the wrong techniques and injuring oneself on the slopes.
And what if the ski enthusiasts and advanced friends want to teach you how to ski? We recommend that you take skiing lessons for the first few days and learn the basics from trained professionals who have the necessary experience, patience and skills. In this way you can enjoy the time after the skiing lessons with your friends in a relaxed way – whether on the slopes or at the après-ski.
Group ski lesson or a private ski instructor. What's recommended?
That depends on your personal wishes. With a private ski instructor, you will probably make faster progress, as he will be able to concentrate fully on your skiing skills and respond individually to your needs.
In the cheaper group lessons, you will quickly come into contact with like-minded people who are in the same situation. You can also make friends here without being afraid of the other lesson participants.
How long should I attend an adult skiing lesson?
There is no exact specification here, as of course many factors such as previous skiing knowledge, physical fitness and motivation play a role. However, it is usually said that after three days you can take your first turns on a blue slope. After a week, you should even be able to ski down red slopes on your own.
My ski equipment – hire or buy?
It is recommended to hire the ski equipment instead of buying it. This not only saves money and space, but you will also be on the slopes with perfectly groomed and modern ski models. Because you can count on the quality of the equipment and service of the top ski hire shops.
IMPROVING THE SKI TECHNIQUE FOR ADVANCED SKIERS AND PROFESSIONALS
Even if you are already an advanced skier, the latest skiing techniques and materials will lure you to new adventures on and off the slopes. Here you will learn how to make skiing even more enjoyable and how to overcome every hurdle on the slope, while freeriding in the deep snow or doing tricks in the snow park.
Get professional support
Don't be afraid to take advantage of the professional support of a ski instructor in order to get used to the ski equipment again and find your old shape again quickly.
Rely on the knowledge of experts to avoid learning incorrect movements and techniques that will be difficult to correct later on. Ski instructors are also trained to teach the important aspect of "safety when skiing" so that accidents can be prevented.
Learning from the professionals and perfecting your own technique
Unfortunately, one cannot observe and analyse oneself while skiing in order to improve one's technique. A ski instructor can help you by observing your skiing style and giving you useful tips after a thorough analysis.
Become an insider yourself and get insider tips from experienced ski instructors
The ski instructors are at home on the slopes and know the ski area like the back of their hand. They will give you the best tips on where to find the most beautiful slopes or when to use certain lifts. As a lesson participant, you will have the opportunity to be the first one to enjoy the descent on a freshly groomed slope or enjoy the skiing day without having to wait in line at the lifts.
Are you into après-ski? You can also benefit from the insider knowledge of your ski instructor and let him tell you his local insider tips when it comes to mountain hut fun. So nothing stands in the way of the best specialities, the best pictures for your Instagram account and the coolest après-ski parties!